July Newsletter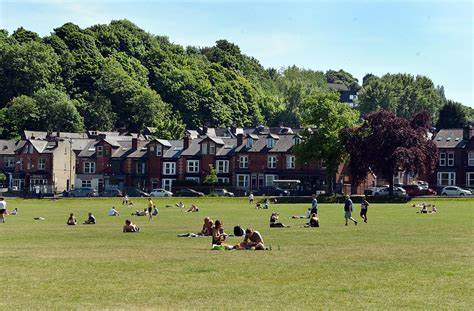 We would like to thank everyone who has supported our Forest School Drive so far for Meynell Primary School. We would like to remind you that you can still donate your used goods this Thursday (13th July)!

Support disadvantaged children who don't thrive in a mainstream setting

https://amzn.eu/eQdKKG7 OR donate your old goods to the school!
Applications for the Sheffield Business Awards are now open!

Back for its 22nd year, the Sheffield Business Awards are brought to you by the Sheffield Chamber of Commerce and Industry, and this years headline sponsor is The University of Sheffield.Firmly established as the leading awards ceremony in Sheffield, the Sheffield Business Awards will recognise and showcase the great organisations, initiatives, people and projects that call Sheffield their home! With 16 categories to choose from you will definitely find an award or two that you would want to apply for.Applications close on 31st July. It is FREE to apply.To see the full list of awards and to apply go to sheffieldbusinessawards.org.ukSheffield is you! Let's celebrate!


Are you struggling to recruit in the digital sector? Attend this FREE workshop.

Date: 25th July
Time: 12:30 PM – 1:30 PM
Location: Online via zoom
Free to both members and non-membersSpeakers from Aardvark and Fragomen will cover, among other things, the state of the market, current issues, recruiting students and from overseas and how to retain staff.Full details and registration: https://www.scci.org.uk/events/recruitment-opportunities-for-the-gaming-and-digital-sector/
Team building activities to help widen participation in outdoor spaces in Sheffield

Open Gates Outdoors (Community) CIC works with corporate partners to widen participation in the outdoors in and around Sheffield.

They provide a range of professional outdoor activities to businesses and use the revenue to provide appropriate outdoor activities to vulnerable and disadvantaged groups for free.

George, the owner of the social enterprise, is qualified to lead groups in the peak district and is enhancing this qualification to include more mountainous areas and is currently obtaining an ILM-recognised life coaching qualification. They help large institutions and companies facilitate team building and CPD activities to maximise impact. Open Gates is fully insured and all activities will be fully risk assessed.

More information is available about our fees and services at www.opengatesoutdoors.co.uk.

George@opengatesoutdoors.co.uk
Life skills-based residential for 16-17 year olds – bursary places
Powerful, long-lasting benefits‍Skills4Life is a 5 day, 4 night activity programme designed to support those in further and higher education on their journey into adulthood. Choose from 11 amazing locations across the UK, from Devon to Northumberland.Enjoy a 4-night/5-day stay this September/October for just £95pp + VAT *(or free via bursary places!)* This special offer is available until 31st October 2023, with transport to and from chosen location included!Book your trip hereFor bursary places please email groups@inspiring-learning.com

Free Excel Consultancy for Charities

In order to support our charities with progression and growth, we have a high-level skills expert in Excel who is offering free Excel constantly. With over 1500 Excel projects completed, our expert is passionate about using his skills and knowledge to support charities/not-for-profits to optimise their resources and free up time to concentrate on service delivery.
So why not take the opportunity to discuss your specific Excel challenges and learn how to use Excel in order to optimise efficiency within your charity? Areas of focus include:Get help with making a few formulas work without spending hours yourselfCreate a spreadsheet to quickly enter clients' details to record and analyse interactionsCreate formulas and pivot tables to track and analyse income & expenditures per month/quarter/year/categoryCreate formulas to extract data from multiple sheets in the same fileAutomatically send emails to clients to remind them of appointments based on data in your file
If you feel as though you could benefit from this offer, please email info@sheffieldbusinesstogether.org.uk.
Free ChatGP Training for Charities

If you don't know what ChatGPT is then it's the next level of computer usefulness that will increase your productivity and efficiency in daily work.

ChatGPT is like a digital genie that can grant unlimited text-based wishes. It works as your personal assistant and researcher that has read 11 billion pages to base their answers on. It generates answers, reports, summaries, software code and documents on almost any question in whatever style and formats you wish for.Ask it to write a grant proposal, or sections of a grant proposal form.Ask it to write an advert for a fund-raising event.Ask it to give you ideas for fund-raising events that cost no or little money to run.Ask it to write a report or an email for you.Ask it to analyse and critique text or ideas for you.Ask it to write a summary for you of existing text or a web page.Ask it how to do something, then ask it to modify the bits you don't like.Please get in touch for advice and training on (1) how you might benefit from ChatGPT and (2) how to write good prompts so you ask it to do what you want in the right way to get the right results. An introduction to ChatGPT might take up to 30 minutes and extra training on good prompt writing would take it to upto about an hour. Training can be done in person or virtually.

If you feel as though you could benefit from this offer, please email info@sheffieldbusinesstogether.org.uk.
A new space for The Suit Works

The Suit Works need your help! They are a charity based in Sheffield that helps and supports unemployed people of all ages who are trying to get into work. They do this by giving them a styling session and providing free interview-appropriate clothing when they are offered a job interview and they do not have or cannot afford to buy anything suitable. They have seen over 1200 clients.

They are now looking for somewhere new to relocate to over the summer. Below are our requirements:Between 1200 & 1800 sq ft (can be split between 2 areas)Central/ close to city with transport links.Accessible buildingGround Floor to be accessible for donations (desirable a carpark space)Ideal: A retail UnitWe Will Consider: Sharing with like minded organisations.If you feel that you could help or want more information please email on info@thesuitworks.co.uk or call us for a chat on 07468464776.
Volunteer days with FoodCycle

FoodCycle's vision is to make food poverty, loneliness, and food waste a thing of the past for every community. Using a community dining model, week in, week out they feed the hungry and give company to the lonely in our communities; providing delicious meals and great conversation using food which would otherwise go to waste.

Meals happen because of their wonderful volunteers who come and help them cook and host, and they are always looking for more people to join their teams! The volunteering commitment is entirely flexible, meaning you can join as regularly as suits you.

FoodCycle has two meals in Sheffield. One in Parson Cross which takes place on a Tuesday evening at Mount Tabor Methodist Church (volunteering opportunities from 5.30pm) and one in Broomhall which takes place on a Wednesday lunchtime at the Broomhall Centre (volunteering opportunities from 11am). You can register to volunteer here. If you have any questions or would like to hear more about volunteering opportunities with FoodCycle, please email laurenjackson@foodcycle.org.uk
Parking Space for a Canoe for Abbeydale Road Scouts

Scouts in Abbeydale are very active canoeists and can often be seen on Millhouse's boating lake. However, they no longer have anywhere to park their trailers with 10 loaded canoes and kayaks. (See pictures attached).

Do you have space where they could park them? Perhaps a car park or yard. Each trailer takes up the space of an estate car. Weekly access will be by mutual arrangement, perhaps collection and next day return during working hours.

Ideally, it would be near to their Scout Centre off Archer Lane, S7 2BT and they would need 24/7 access to minimise the volunteer time involved. Their funds were depleted during COVID and they are also trying to source wheel clamps.

Please contact Scout Leader Dean Maragh on 07973 887 839 if you have any ideas or can help.