Business leaders visit Sheffield as part of BITC's Seeing is Believing programme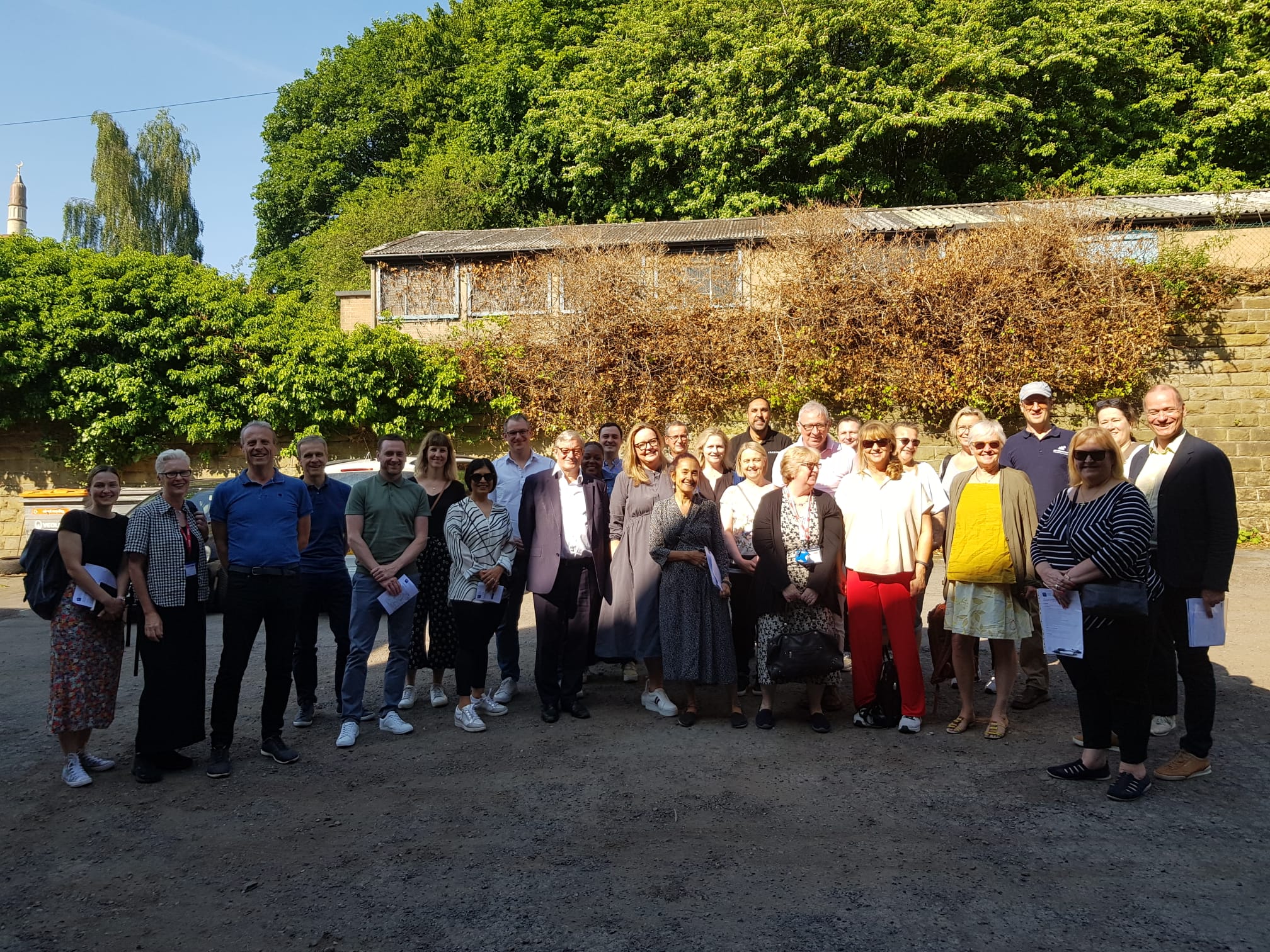 Business in the Communities Press release for the Seeing is Believing visit in Sheffield
Business in the Community (BITC), The Prince's Responsible Business Network, has today brought together senior business leaders from companies such as Aviva, Sheffield Hallam University, Worldline, IKEA, Royal Mail Group, Mott MacDonald, and CityFibre to better understand the interconnectivity and complexity of issues impacting families living in areas of Sheffield with multiple deprivation, especially those which impact children and young people. The visit also gives business leaders the opportunity to understand how they can collaborate with the community and local council to develop and deliver a long-term vision for change in Sheffield.
The visit is part of BITC's flagship initiative, The Prince's Seeing is Believing programme. The Seeing is Believing programme, one of the most prestigious immersive experiences available for C-suite leaders, helps drive BITC's Place programme, facilitating meaningful cross-sector collaboration on new and innovative solutions to deliver long-term and transformational impact in areas around the UK, such as Sheffield.
As part of the visit, leaders will visit community organisations including Endeavour, a community organisation that supports young people in a number of areas including literacy, academic development, and health. Business leaders will also visit Meynell Community Primary School, Longley Park Sixth Form, and Blend Kitchen.
The visit, led by Tim Roberts, Chief Executive Officer at Henry Boot plc, comes as the latest data published by the ONS showed that the unemployment rate in Sheffield is at 6.9%, well above the UK average, which is 3.6%. The figures also show that the unemployment rate for 16-24-year-olds is especially high, with two in 10 people in this age group not in employment, compared to the national average, which is one in 10. ONS figures also show that of 12,414 young people aged 16-17 in Sheffield, 641 of them are not in education, employment, or training (NEET) and 533 are unknown. Sheffield's combined NEET and unknown figures stood at 8.3% in March 2023.
Tim Roberts, CEO at Henry Boot plc, and leader of BITC's Sheffield Seeing is Believing visit, said:
"Understanding the role that businesses play in supporting communities such as those in Sheffield is essential if we are to work together to address the levels of inequality many people face across the UK. Through BITC's Seeing is Believing visit to Sheffield, we had the opportunity to hear first-hand from people facing barriers to employment, living in communities with high levels of deprivation, and who have been marginalised due to a lack of access to rights, resources, and opportunities. I look forward to working with the other business leaders on the visit to leverage our resources and expertise, to drive meaningful change for those facing barriers and deprivation in Sheffield and other communities."
Baroness Jo Valentine, Co-Director of Place at Business in the Community, said:
"At BITC, we believe in the power of collaborative action to create a fairer and greener world that transforms lives and enables communities to thrive. The Seeing is Believing programme gives business leaders the opportunity to hear first-hand how societal issues impact people's life chances and understand their crucial role in driving collaborative action. The visit to Sheffield has shed light on the challenges facing families, children, and young people in Sheffield, and we look forward to working with business leaders to not only address the issues that we saw but to support the development and delivery of a long-term vision for transformational change in Sheffield."
The Seeing is Believing programme was established by the then Prince of Wales in 1990. The programme was born from a simple but powerful belief that the best way to close the gap between the boardroom and the community was to take business leaders out to the communities and, through the power of experiential learning, to inspire and challenge participants. The visits are designed to encourage business leaders to think strategically about the implications for their own businesses and the practical actions that can be taken in response, leading to meaningful and sustained impact for both businesses and communities. To date, over 25,000 business leaders have taken part in the Seeing is Believing programme. 
ENDS
About the projects
Endeavour https://endeavour.org.uk
Founded more than 65 years ago by Dick Allcock OBE, Endeavour is a charity that has grown and developed in response to the changing needs of young people and the challenges of modern society. Today, its focus is as much on literacy, academic development, and health as it is on outdoor challenge, and it is helping young people negotiate the digital world as well as the physical. The location of Endeavour is within an area of deprivation, where the need for support is high. It aspires to be at the heart of the community to meet the needs of the people within it, working with valued partner organisations who are trying to achieve similar outcomes.
Meynell Community Primary School https://www.meynell.sheffield.sch.uk
This primary school is located in the Southey ward of Sheffield. Out of 28 wards, Southey is 5th most deprived in the city. 36.7% of children in Southey are at risk of living in poverty, compared with 24.2% citywide. 68% of people in the ward are living in areas classed amongst the 10% most deprived in England, according to the latest indices of Deprivation.
69.7% of Meynell Primary school's pupils are eligible for free school meals.
Longley Park Sixth Form College https://www.longleypark.ac.uk
Longley Park Sixth Form is an academy for 16-18-year-olds. It has circa 1200 students, 75% of whom are from Black, Asian, and Minority Ethnic backgrounds. Longley Park Sixth Form is situated in a Sheffield constituency with low social mobility. Many of the students are from disadvantaged backgrounds and don't have the financial backing or opportunities afforded to students in more affluent parts of the city. The aim from the start has been to create a world-class environment for post-16 learning which will give you access to the very best facilities and equipment. Longley Park Sixth Form is part of Brigantia Learning Trust.
Blend Kitchen https://www.blendkitchen.co.uk
A social enterprise with a simple yet ambitious aim – to support and change the lives of some of Sheffield's most vulnerable and disenfranchised people. Blend Kitchen restaurant provides structured hospitality training and paid work experience to people who have been marginalised by a lack of access to rights, resources, and opportunities. For many trainees, Blend Kitchen is their first ever experience of paid employment.
Notes to editor
1. Learn more about BITC's Seeing is Believing Programme here
2. Read the Business in the Community's 2022 Seeing is Believing Programme review here
3. Pictures of the visit are attached. Please contact Business in the Community for further information.

For further information, please contact Polly Dacam, Press Officer, at polly.dacam@bitc.org.uk.
About Business in the Community 
Business in the Community is the UK's largest and most influential responsible business network dedicated to building a fairer and greener world together, supported by His Majesty the King for over 40 years. We inspire, engage and challenge purposeful leaders to take practical action to mobilise their collective strength as a force for good in society.