50 Things To Do Before You're Five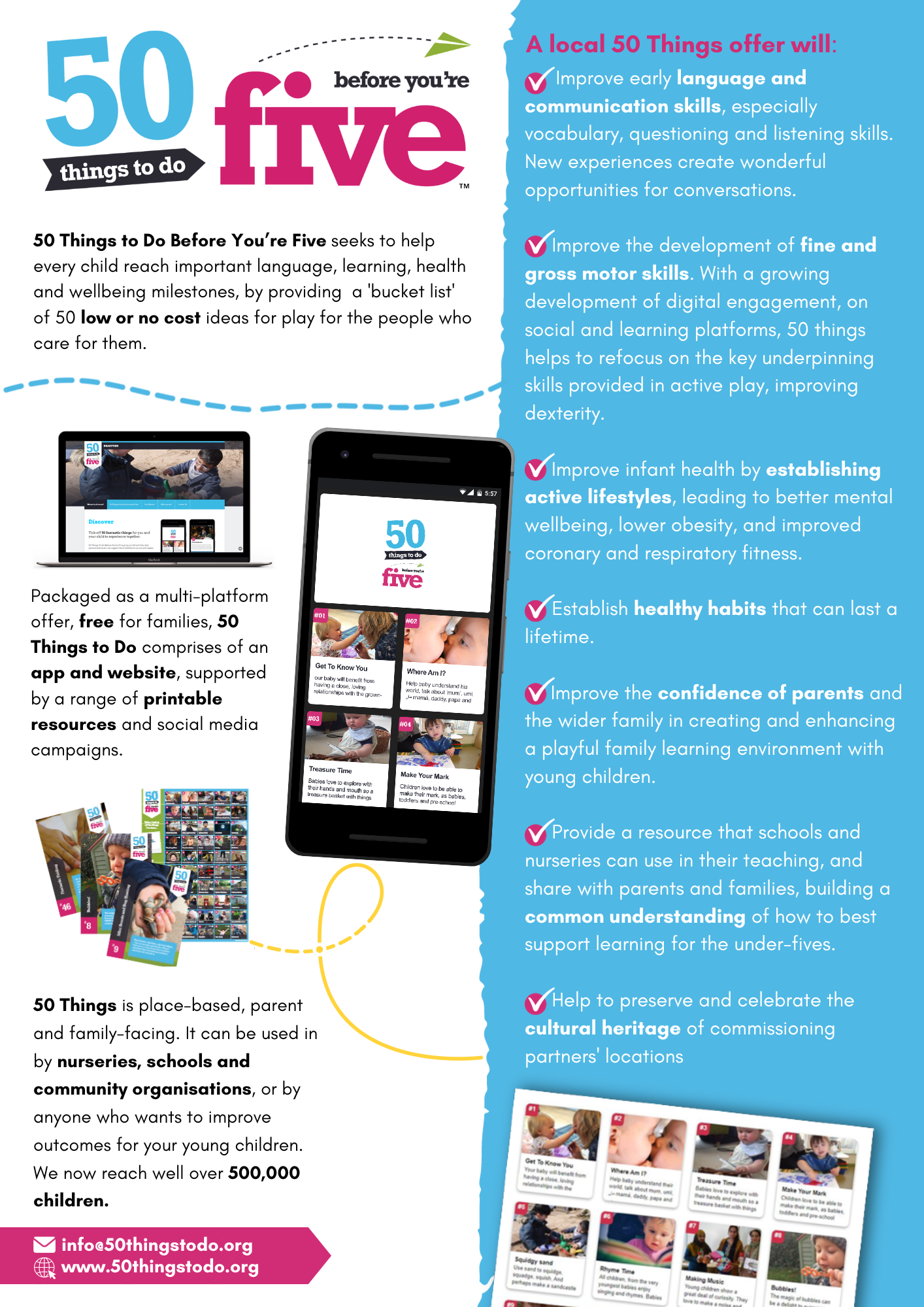 50 Things is a delightful offer for parents, providing low and no cost suggestions of activities to do at home, and locally which are at all times fun, while at the same time supporting language, learning, and promoting improved health for all. 50 Things comprises a local app, website, and printed resources.
50 Things has been in existence for just over five years, growing from the practice in an outstanding Bradford school, to now being available in 23 areas across the UK, with a reach of well over 500,000 children. It has been quite a success story! I am grateful for the support of Business in the Community Bradford, who I have worked positively with for a number of years.
50 Things has two current offers – 50 Things Before Five, which is being rolled out across the country. And our new offer 50 Things ages 5-11, which is now being rolled evaluated in Bradford, and soon in a small number of other areas.
You can read more about the achievements of 50 Things in the attached impact report or by looking at our national 50 Things website. 50 Things also was a key recommendation of a very recent report issued by the Child of the North All-Party Parliamentary Group, which I am also attaching and can be read online here
You can download the 50 Things app by clicking here or here.
Having established a strong regional Yorkshire presence in Sheffield and in all five West Yorkshire Local Authorities, we are now very much interested in offering 50 Things to Rotherham, Barnsley and Doncaster. I would be grateful if you might be able to introduce us to colleagues in these areas who might be able to support our work. Practically, this might mean someone within a local authority or integrated care board, but equally the scale, and opportunity to make an impact might make a 50 Things Rotherham, Barnsley or Doncaster an attractive CSR project for a business, entrepreneur or philanthropist.